I've never met him, but the moment I saw a tweet about his passing, my heart sank. Sadness and regret flowed haphazardly through me, as I scrolled and searched for a report that will tell me it was untrue, and dissipate the pain I was feeling. But the more I searched, the more concrete the reality became, until I arrived in front of it, and could not push it away, anymore, when I saw the official statement, issued on his twitter handle: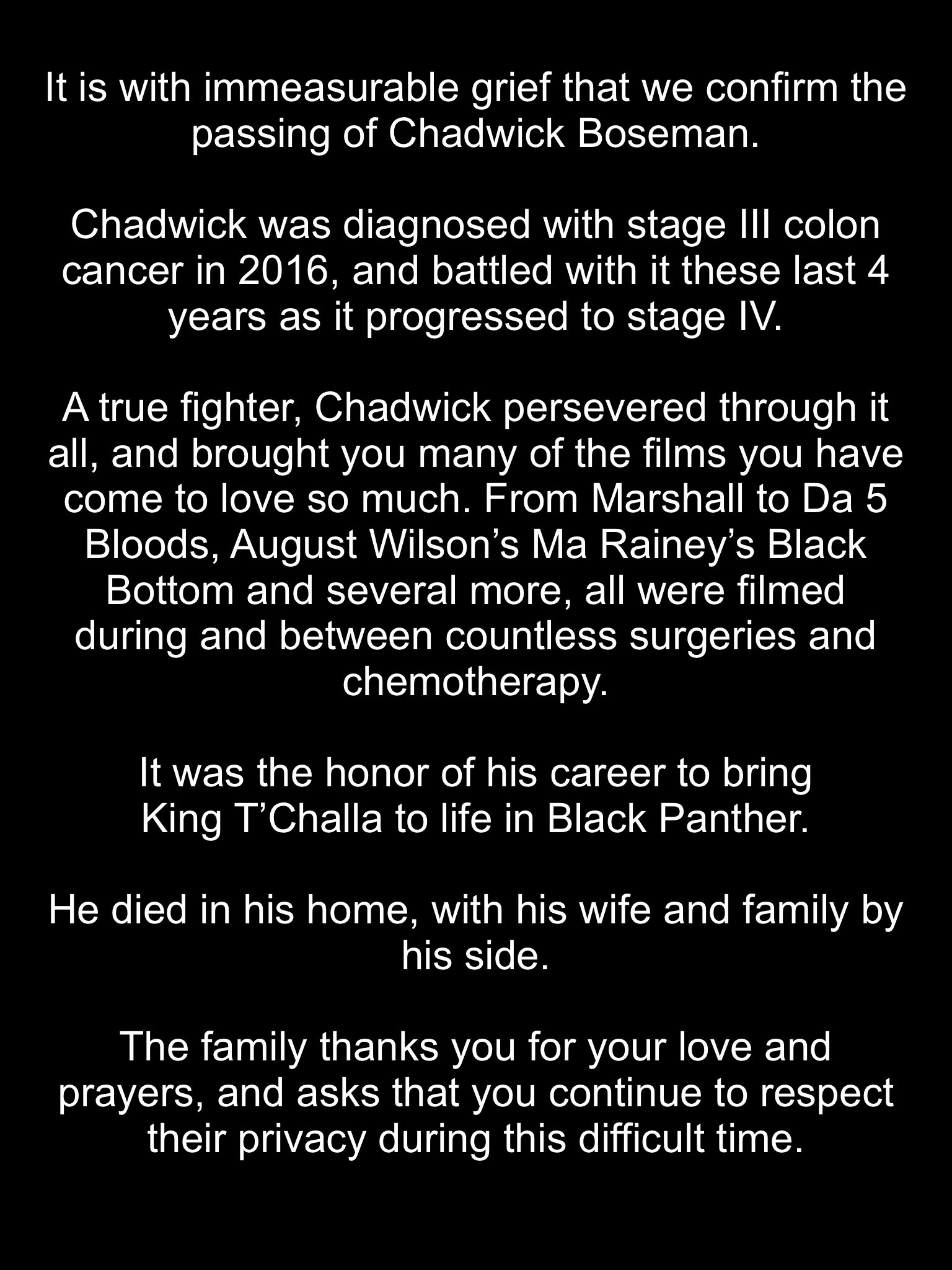 "It is with immeasurable grief that we confirm the passing of Chadwick Boseman." It began, and I paused and tried to measure my own grief, but could not, and realized that my grief was immeasurable too, even though I wasn't a close friend or relative. Or even a professed fan.
Up until that moment, I had no idea that the Black King had migrated from being a famous person I appreciate, to being a resident of the compartment of my heart, where beings like Obama and Denzel Washington occupy.
I guess sometimes we love and don't realize we do. And sometimes, we're invested and don't realize we are.
So, in want of a piece of him I can claim as mine, I went to look for his words, because words are powerful and the words of a great man are even more powerful.
Here are eleven lessons, I'm keeping with me, from eleven quotes by the late Actor, Writer and Director; Chadwick Boseman:
"You have to cherish things in a different way when you know the clock is ticking, you are under pressure.": Recently, I've been feeling a lot like time is running out and I'm barely starting out on the journey set out before me. But when I feel like this, I almost always diffuse the pressure by telling myself that the other things I am giving myself to, are also important and urgent, and there is a tomorrow and another tomorrow after that. Now I'm awake to the fact that every second counts and purpose needs every second of our lives. Therefore, I shouldn't waste any more time on things that can be done by someone else, at the expense of things only I can do.
"Guys are natural problem solvers – they like to have strategies.": I used to believe this, then grew cynical after a prolonged exposure to an adverse reality. This statement has forced me to confront the truths of that reality and accept how I may have contributed to it, and how a little faith in the methods and approaches of the other person could have made things more pleasant.
"The only difference between a hero and the villain is that the villain chooses to use that power in a way that is selfish and hurts other people.": As a possessor of talent, skills and a little money, I am always experiencing the pressure of demand being placed on these possessions of mine, from the good and bad sides. And overtime, I have come to know that our abilities and possessions are tools that can be used for a greater course, than we can imagine or know. And it is our responsibility to choose what side of the divide to contribute to and further. This quote, by Chadwick, has made it become clearer to me that I have the opportunity to be a hero, with every utilization of my possessions.
"A superhero movie is only as great as its villains.": When I dreamt it, the goal seemed within arms reach. And I started out thinking, all it will take, to be, are steps one to nth. But every step has featured enough challenges to make me turn back and change course for something easy. So, I will say these words to myself, (A superhero movie is only as great as its villains) as I continue to fight for who I want to be.
"There's nothing more stressful than your stomach growling. But interestingly enough, some of my best writing came when I was poor and hungry – living off water and oatmeal, mind clear.": Beyonce modeled how to convert one's pain and difficulty into an art piece through her album, "Lemonade". Adelle did same with an album, too. With these words, Mr. Boseman has further stressed the point that personal issues, like pain or lack, are not necessarily impediments to personal goals. Instead, they can be manipulated as main materials of a masterpiece.
"I remember my first agent telling me – because they found me as an actor, but I was probably more interested in writing and maybe directing – they were like, 'Well, you can't do both things.' And I was like, 'I'm gonna show you.'": There is always someone close enough to lean in and whisper to your heart, "you can't do it (all)". And I am always very glad to hear the response, "actually, I can", because when my faith is impacted on by a thing, I want to look around and find someone who said, "I can" and then went ahead to accomplish what s/he was told s/he couldn't/shouldn't do.
"I like ambiguity because you may be the villain in someone else's story and the hero in your own, and I think very often, African-American characters are either one thing or the other. You shouldn't have to be perfectly good or perfectly bad. You don't even have to be magical.": I just have to be myself. A perfect me, who is making hard choices and trying to make good with what is available to me. As a result, I may hurt people, but mostly unintentionally. And I have to be okay with being a hero, in my own story, and a necessary mini-villain in another person's story.
"I'm not so keen on letting my car drive itself.": Beyond the literal meaning of that, I'm holding on to the point, that much of my life is under my control and I have the option to transfer a portion of that power to others. But it is okay to choose to keep it all as mine. Or to choose to stay involved in every definitive activity of my life, even when I don't have to.
"The projects that I end up doing, that I want to be involved with in any way, have always been projects that will be impactful, for the most part, to my people – to black people.": So, I am making, "what's the impact?", an important screening question to all of my future projects.
"People don't want to experience change; they just want to wake up, and it's different.": I have said I will like to see a change in an area, at different times. But did so, passively, unconsciously expecting those changes to be effected by someone else. And, also, unconsciously expecting others to bear the discomfort of its progression. This comes as a push to get involved. To stay involved. And to allow the electricity of change to pass through me.
"I said yes too much. I said yes to certain projects that weren't for me. It was somebody else's vision and somebody else's dream and somebody else's artistic endeavor, but it didn't necessarily fit in my grand scheme.": I get vilified, a lot, for it, but I'll keep saying no to things, that are not beneficial to my goal, because time is running out.